OPEN LETTER TO Mr.A.SCIPIONE.NSW POLICE COMMISSIONER and Mr.David Elliott MP, Minister for Corrections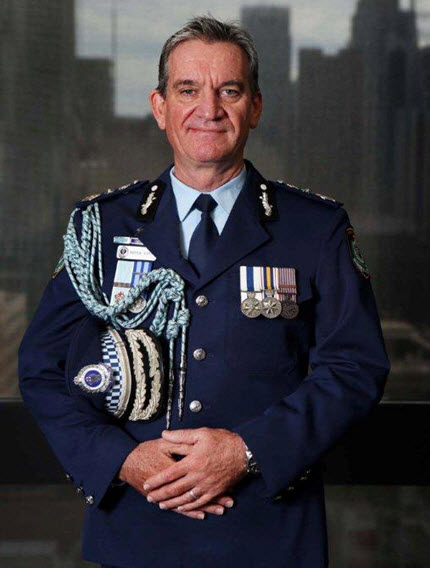 Dear Sirs

I will do it as short as possible having in mind the time you need to spend on checking the current politically correct instruction.

Ad rem.

Today I called one of the jails in Sydney area called "corrective services".
Reason?
I intended to book a visit to see my wife .
See her and give her at the same time a bit of spiritual support .
Even during the one short hour.
And here a surprise:no visit on Sunday,Christmas Day.
Why not?
According to a worker from jail I spoke to ,in the past it was respected by "system" that -especially during the Christmas time -family members could spend one hour with each other.
That's correct with the Christmas spirit .
Or am'I wrong?
So why of sudden that kind of additional persecution?
Where is the source of this stinking hypocrisy?
I don't know and to be honest I don't care what kind of religion you do follow officially for political purpose by from my at least 20 years old observations of those matters I do see in this theoretically christian country an active extermination ,an active holocaust of christian,s traditions.

I do understand that you position ,wages and privileges depend on those who designated you to your current office.
But to do you all this they have to be voted in the first place.
Please keep that in mind .
But to understand doesn't mean that I do have to agree.
Please let me to remain you that first and most

you are public servant

.
Like it or not.

I know..I know..Please don't laugh..
Let's keep this ,yet another fiction, alive for a moment.
( Just to clarify the meaning of this word: Public means the bunch of sheep who are participating in yet another farce called:elections.)
As the result of this show you have a chance to be nominated by the current whip holders to do what you do.
So..again theoretically you should be aware of consequences of you decisions from this"voting public" point of view.
Because if they not happy with you they may not vote you owners to powers during the next voting circus and then what?
Back to work?
Could be hard after years of being a decoration only...
Competition for you chair as you know is fierce and you competitors could be ready to do more then you for their mastersfor the privileges attached to your position.
And one more thing not connected directly to you but to the fake,hypocritical and -in reality-totalitarian system you do represent:
The fiction say that jail could be a tool of re-socialize the criminal,show them the light [b](of modern candle stick holder with 7 or 8 arm to give more light?)
and teach them how to be o good sheep later on.
But even this is not possible.
An ex-criminal can't open his own business becaue to do so he/she will need an public liability insurance and as ex-criminal he/she will be refused one [/b]
How does it work in practice I know very well because I'm one of those terrible(now Ex) criminals.
NOTHING IS DONE INSIDE THE GULAG YOU RUN AT ALL TO GIVE THE INMATES A CHANCE FOR BETTER,STRAIGHT AND DECENT LIFE AFTER.
EVEN FOR THE ACCES TO BOOKS-CONTRARY YET TO ANOTHER OFFICIAL FICTION WHICH SAYS THAT "INMATES SHOLUD BE ENCOURAGED TO READ..." - THOSE FEW (MYSELF INCLUDED) HAD TO FIGHT WITH JAIL OFFICIALS FOR ACCESS TO LIBRARIES.
(ESPECIALLY IN SIBERIAN PARTS OF YOUR GULAG AT BATHURST, GOULBERN AND LONG BAY.
I USE THE WORD"SIBERIAN" ON PURPOSE.
TRY TO BE RE-SOCIALIZED IF THE TEMPERATURE OUTSIDE IS -7 CELSIUS AND YOU HAVE ONLY A T-SHIRT TO GIVE YOU A MOTIVATION .)
EVERY EXCUSE WAS GOOD ENOUGH NOT TO LET US TO READ.
NOTHING IS DONE For YOUNG PEOPLE -WHO ARE IN MAJORITY AMONG THE INMATES -TO GIVE THEM A CHANCE FOR DIFFERENT LIFE AFTER THEY END THEIR SENTENCES.
A LOT OF THEM CAN'T READ OR WRITE EVEN IN ENGLISH!!!
WHY NOT TEACH THEM?
GIVE THEM SKILLS?
I do believe it is not an accident .What I do believe It is done ON PURPOSE.
TO FORCE THEM TO GO BACK TO DO WHAT THEY WERE DOING BEFORE AND WHAT EARNED THEM THE JAIL IN THE FIRST PLACE?!
Because prison industry needs a constant supply of fresh meet?
To MAKE SURE THAT THEY WILL BE BACK AS SOON AS POSSIBLE TO keep the prison industry going and give you a chance to show how effective police is in fighting the crime?
Get real...
What about the NSW police officers holding serious criminal convictions like:

"NSW Police convictions by number:

Stealing: 39
Break enter and steal: 14
Malicious damage: 14
Common assault: 7
Assault occasioning actual bodily harm: 4
Self-administered prohibited drug: 4
Dangerous driving causing death: 1
Stalk/intimidate: 1
Documents obtained by 7.30 NSW for the first time show the range and extent of convictions recorded before and during police employment, including 39 of stealing."
Should I remember you what did you said on this ocassion?
Let me continue :
"While Police Commissioner Andrew Scipione acknowledged in January this year that 437 officers had "form" - a criminal conviction - he was quoted as telling the Daily Telegraph that in the majority of cases these officers have been "convicted of a low range PCA (prescribed concentration of alcohol or drink driving) or similar offence".

But documents obtained through a Government Information Public Access Act (GIPA) application show the actual convictions include much more.
The more serious convictions include

fraud, false pretences, dishonestly obtaining financial advantage, apprehended domestic violence, and dangerous driving causing death

.
The total number of convictions recorded against 437 officers are 595, which equates to one in 40 NSW police officers having a criminal record.
!!!
The names of the convicted officers remain confidential but there are 14 inspectors, five senior sergeants, 80 sergeants, 236 senior constables, 69 constables, 20 probationary constables and 13 students
.
Rather than the

"majority"

(A.SCIPIONE)recording low-range PCA convictions, the documents show that 58 officers were convicted for high-range drink driving, while 144 were convicted for mid-range drink driving.
The documents show that only
58 had been convicted for low-range PCA.
The police department has rejected a complaint that Commissioner Scipione has misled the public in his January statement."
And -in light of all this-you find that families visiting their relatives on Christmas Day to support each other ,don't deserve this?
Who really pays you mr .Police Commissioner?
Who really pays you mr.Minister?
And..FOR WHAT ?
And-least but not last:
What about the police officers like const. Mc Intyre and const.Neville from Green Valley police station who were caught red-handed laying under the oath in Liverpool court house on 13.07.2007?
And who -according to my information are still working for police force?!
Minor matters mr. Police Commissioner?
Not from my point of view.
And maybe on this occasion one more question which bothers me since long time:
why Australian Police Force,government department,has the A.B.N. number?
Australian Business Number ?
As far as I know it does apply to profit orientated initiatives only?
But police is there to" protect us and serve" not to exploit us and make money out of us ?
How to explain that?
(Because I do understand that paying 40 dollars a week to a qualified welder employed in prison factory building for example trailers and all king of steel fabrication is part of re-socializing not exploitation?)
According to your own guidelines he should save some of this money for him and send the rest outside to help his family
And talking back about the visits in prisons -sorry-in "Corrective Centers" -what about people like me who work 7 days a week ?
And visits are
only
on Sunday and Saturday?
I don't know how far did you loose a contact with reality applying to most of Australians but I'm only one of many who are in such situation being cut of from their dear ones because of that?

What's wrong with visits during the weekdays ?

One or two days for hard working part of population you probably don't have any idea about?
Don't they deserve a fair treatment in this "FAIR COUNTRY" ?
I THINK THAT SOMEONE WHO INVENTED THIS CATCHY PIECE OF PROPAGANDA FORGOT TO TELL US "FAIR" ...FOR..WHOM?
Merry Christmas , Mr.SCIPIONE.
Merry Christmas Mr.David Elliott, MP
(Politically correct now and against my real feelings:)
Regards
Jerzy Ulicki-Rek
I e-mailed this letter to office of mr.Scipione
Couldn't send the whole lot because "system" restricts the writer to 2000 sign only but I provided him with a link to the rest of the letter asking for WRITTEN answers to all my questions.
Jerzy